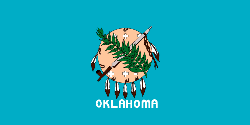 Oklahoma
"Sooner State"
Motto

Labor omnia vincit (Labor conquers all things)

Capitol

Name Origin

From two Choctaw Indian words meaning "red people"

Statehood Date

Nov. 16, 1907 (46th)
Cities in Oklahoma
NOTE: Not all cities are displayed. Please narrow your selection by using the search above.
Official Symbols
A state's official symbols represent the composition and culture of the land and people who live and have lived here. Below are the symbols of Oklahoma along with the year they became official.
| | |
| --- | --- |
| Flower | Mistletoe (1893) |
| Tree | Redbud (1937) |
| Bird | Scissor-Tailed Flycatcher (1951) |
| Animal | Bison (1972) |
| Reptile | Mountain Boomer Lizard (1969) |
| Stone | Rose Rock (Barite Rose) (1968) |
| Colors | Green And White (1915) |
| Song | "Oklahoma" (1953) |
| Beverage | Milk |
| Butterfly | Black Swallowtail |
| Fish | White Or Sand Bass |
| Folk Dance | Square Dance |
| Furbearer | Raccoon |
| Game Animal | White-Tailed Deer |
| Grass | Indiangrass |
| Insect | Honeybee |
| Musical Instrument | Fiddle |
| Poem | "Howdy Folks," David Randolph Milsten |
| Waltz | "Oklahoma Wind" |
| Wildflower | Indian Blanket |
Demographics
Population Density

50.3 people per square mile
Geography and Weather
Land Area

68,667 sq mi. (177,848 sq km)

Lowest Elevation

0 ft (0 m)

Average Elevation

1300 ft (396.24 m)

Highest Temperature Recorded

120°F (49°C) on June 27, 1994

Lowest Temperature Recorded

–27°F (–33°C) on January 18, 1930